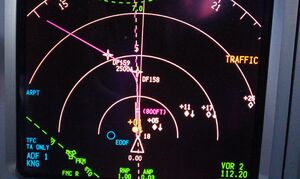 Climate & Weather
Edit
Climate data for Frankfurt (1971−2000)
Month
Jan
Feb
Mar
Apr
May
Jun
Jul
Aug
Sep
Oct
Nov
Dec
Year
Average high °C (°F)
3.8
(38.8)
5.6
(42.1)
10.4
(50.7)
14.5
(58.1)
19.5
(67.1)
22.3
(72.1)
24.8
(76.6)
23.0
(73.4)
20.1
(68.2)
14.0
(57.2)
7.7
(45.9)
5.0
(41.0)
14.4
(57.9)
Average low °C (°F)
−1
(30)
−1.2
(29.8)
1.9
(35.4)
4.1
(39.4)
8.4
(47.1)
11.7
(53.1)
13.7
(56.7)
13.4
(56.1)
10.1
(50.2)
6.0
(42.8)
2.1
(35.8)
0.0
(32.0)
5.7
(42.3)
Precipitation mm (inches)
42.5
(1.673)
37.1
(1.461)
47.6
(1.874)
42.8
(1.685)
60.2
(2.37)
60.6
(2.386)
64.9
(2.555)
52.9
(2.083)
50.0
(1.969)
54.6
(2.15)
51.8
(2.039)
55.7
(2.193)
620.7
(24.437)
Avg. precipitation days (≥1 mm)
9.8
7.1
9.3
8.5
9.8
10.3
9.3
7.8
8.1
9.3
9.7
9.9
108.9
Source: World Meteorological Organization (UN)[17]
What to expect
Edit
Approaches to runway 07R and 07C are subject to mechanical lifting causing turbulences close to the ground even at very low wind speeds.
Use caution on taxiway P leading down from runway 07L/25R to the apron - the section south of the bridge is often slippery in addition to the considerable downslope and the banked turn.
Familiarise yourself with the crossing of taxiway P and P1. Especially at night you might be challenged choosing or confirming the right way.
Taxiway P has a huge descent and ascent between intersection P14 and P8 so that at its lowest point, depending on your flight deck height, it makes it impossible to see the further progress of P taxiway.
For de-icing you might be assigned position V135 - note that this is not marked on the charts, it is a temporary stand east of N5 between N and L, a followme should pick you up on L.
Departure
Edit
TSAT updates can be requested via SMS - send 'TSAT [Full ATC callsign]' to +49 173 7285018, updates will be sent automatically after TSAT has been calculated or changed (earliest 40 minutes before TOBT)
Facilities
Edit